130th Pennsylvania Volunteers - Battle of Fredericksburg, Virginia December 13, 1862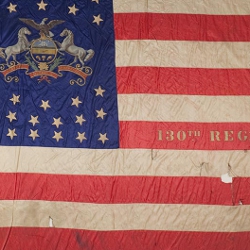 Organized in August 1862 the 130th Pennsylvania was a nine-month regiment composed of men from Chester, Cumberland, Dauphin, Montgomery and York counties. Almost immediately after forming, the regiment was moved to Washington, D.C., fought at Antietam on September 17, and went into camp near Harper's Ferry. By December 1862, they were stationed opposite the Confederate army along the Rappahannock River at Fredericksburg. On the fogy morning of December 13, 1862, the regiment was given the order to charge. The 130th participated in one of the infamous Union assaults on Marye's Heights-a bloody failed attack. When a volley decimated the color company, Colonel Henry I. Zinn, a native of Carlisle, five days past his twenty-eighth birthday, seized the colors and rallied the regiment behind him. With the flag-staff in his left hand, and his sword in his right, Zinn cried out, "Stick to your standard, boys! The Hundred and Thirtieth never abandons its standard!"[1] Shortly thereafter, an enemy bullet smashed through his skull. The colonel and the flag were carried to the rear, where he died less than thirty minutes later. The color received thirty-two bullet holes, one of which shattered the staff. Colonel Zinn's body was returned to Carlisle and he was buried in Carlisle cemetery.
[1]Samuel Bates, History of Pennsylvania Volunteers 1861-1865. (Harrisburg: B. Singerly, State Printer, 1869), 206.
PA Capitol Preservation Committee | Room 630 Main Capitol Building | Harrisburg, PA 17120